Click here to visit the Jewish Gen Jewish Community Records (JCR) cemeteries project page.
The Cemeteries
One of our first tasks with the Making Their Mark project was to comprehensively record all the tombstones in the Reform and Orthodox Jewish Cemeteries at Scholemoor together with the small number of
Jewish tombstones at Undercliffe Cemetery.
Malcolm Sender, once a dentist in Buttershaw, Bradford and now an intrepid
photographer of Jewish tombstone volunteered for the task and photographed the 650
plus stones.
Alan Tobias of Leeds was our software guru and he arranged for all the pictures and
information to be catalogued and David Shulman loaded it onto the Jewish Genealogy
website.
As Malcolm photographed the graves we were struck by the number of Doctors buried
in the cemeteries, who were they and why had they come to Bradford?
We found graves of Mira Kagan,who was one of the few survivors of the Kovno Ghetto
in Lithuania, of Dr Emma Pines Roubanovitch whose husband had died in Siberia in
1938 and of David Selka who had undertaken secret war work for the Admiralty.
To supplement the tombstones and their transcriptions, we hope former Bradfordians
and the relatives of those buried in Bradford will send us biographies of their family
members to include on our website – email info@bradfordjewish.org.uk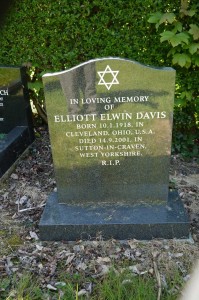 The tombstone to the left is in the Reform Cemetery and list's Elliott's birthplace Cleveland,
Ohio, USA and place of death, Sutton in Craven. If all tombstones contained similar
information it would be a great help! Much more information can be viewed by clicking here which will take you to the JCR (Jewish Communities and Records) page on the Bradford Cemeteries.
To read about the Jewish Doctors in Bradford, many of whom are buried in Scholemoor, click here.
To read an array of obituaries and eulogies of some of the people buried at Scholemoor and elsewhere, click here.