Ernest Leopold Sichel: Artist and Sculptor, 1862-1941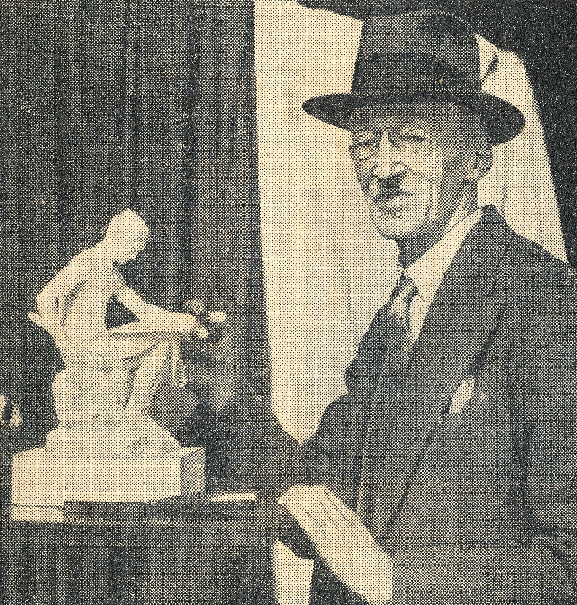 A contemporary of William Rothenstein, Albert Rutherston and the classical music composer Frederik Delius, Ernest Sichel lived and made his mark in the art world of the late 19th Century and much of the first half of the 20th century.
Born on 27 June 1862  into a woollen textile merchant family of German Jewish origin in Bradford, Sichel was acclaimed as a fantastically great painter of portrait's, landscapes and watercolours as well as been a studious and meticulous silversmith and sculptor. He would endeavour to spend much of his life in and around Bradford, effectively snubbing the bright lights of the big city. The lure of London was something he became disillusioned with, after spending some time there as a young man, living and occupying a studio off the Euston Road, between Kings Cross and Regents Park. It was adjacent to the studio of the famous draughtsman and pictorialist of animals the aptly monikered John M.Swan. Sichel and Swan became very good friends. The two of them had the hunger and wanderlust and journeyed to Paris to study the mural paintings of Purvis de Chavannes, a much lauded influence on Sichels own creative output.
Sichel who died a bachelor is now much perceived as one of British the forgotten grand master of the English art scene. The artist left a legacy which could have made any of his period contemporaries green with envy.
He set himself up as a painter of portraits upon his return to Bradford during the 1880′s. Some of these commissions were of prestigious local Doctors such as Bronner and Bell, as well as Bradford 'Merchant Prince' and founder of the Bradford Chamber of Commerce, Sir Jacob Behrens, a woollen textile trader, who 'gave early proof of his great technical endowment' (Telegraph and Argus, 22nd March 1941).
Oils, water colour and pastels were not his only media. He had designed ecclesiastical embroidery and bronze and silver work, and until relatively recent to the time he died had been at work on a small-scale statuary.
Foremost among his admirers was Sir William Rothenstein, who wrote warmly of Mr Sichel in his memoirs, published in the 1930′s.
Ernest Sichel passed away at his home in Bradford on the 20nd March 1941.
Ernest Sichel Yorkshire, Evening Post 21st November 1932