The Jewish Lord Mayors
From the onset of their arrival as merchants as far back as the 1820′s, ambition had been something the Jews of Bradford had no shortage of. Not quite content with becoming textile merchant's of another class, the pomp and ceremony of local politics and institutions seemed to beckon for some. Between 1864 and 1984, Bradford Town Hall was host to four Jewish Mayors, which itself is an average of one every 30 years if figures like that are to be considered.
Charles Semon
The first to enter into local politics was Danzig born textile exporter Charles Joseph Semon. He was born in the German port in 1814 and arrived in Bradford during middle age, right in the middle of the 19th Century. By 1864 he had become Mayor and led a number of benevolent schemes during his time in civic and commercial life.
In 1851 along with Jacob Unna, Jacob Behrens and Leopold Fulda, he helped to found the Bradford Chamber of Commerce, becoming it's vice president some 20 years later.
In 1874 he established a convalescent home, now demolished in Ilkley, which was named in his honour.
By the time of his death in 1877 he had let the people of Bradford benefit enormously from his own personal wealth. Even after death his generosity continued, as he left £35,000 in his will for Bradford's educational institutions to benefit from, the equivalent of £3,347,730 in today's money.
He died whilst in Switzerland, taking a break after developing some form of illness. He is buried in the Reform section of Scholemoor Cemetery. He lived at Broughton Hall near Skipton.
Jacob Moser
The next prominent member of the community to become Lord Mayor was Jacob Moser. Councillor Jacob Moser J.P., Lord Mayor of Bradford 1910-1911  was a huge benefactor to the local community and to projects in the then Palestine, now Israel. This includes a significant contribution to the funding of the first Hebrew High School, known as the Herzliya Gymnasia in Jaffa, Tel Aviv.
He was born at Schleswig-Holstein in November 1839. His birthplace later became a territory of the expanding Germany in 1849, when it became part of the Prussian province. His education took him to Hamburg and Paris, and he eventually arrived in Bradford in 1863. It was here he began working for the textile exporters W. Herelle, Jonas Simonson & Co., and Hirsch Pinner & Co.
Becoming partner in the worsted coating firm of Edelstein, Moser and Co. in 1872 his career began to thrive. He stayed with this successful partnership until his retirement in 1902, when his attentions turned more closely towards local municipal politics.
Jacob was married to Florence Moser for many years, they celebrated their 25th Wedding anniversary on 10th March 1900. The sadly however never had any children. The only person to continued to bear the Moser name was Jacobs brother, Emile Moser, also a merchant. His descendants are still around to this day.
Mrs Moser was also actively involved in community philanthropy, running a pioneering nursery initiative known as 'The Nest' on Wynne Street on Westgate, at the top end of the town. Here,  'mothers could leave their babies and young children to be cared for and fed during the day', as the Telegraph and Argus of 2nd July 1960 relates, in a feature about the Mosers.
David Black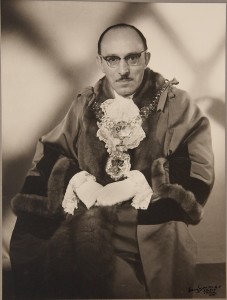 After Moser, it wasn't until the 1950′s that Bradford again had a representative from the Jewish community as one of its Lord Mayors. Between 1958 and 1959 Alderman Dr. David Black wore the heavyweight gold chain and red velvet cloak. He was however no relation to the Black family who had a business in Keighley, Peter Blacks which manufactured plastic bags for retail outlets such as Mark and Spencer, initially another Jewish run family business.  The company began  making shopping bags out of surplus army webbing, and eventually rose to become one of, if not the leading supplier to Marks', affectionately known as 'Marks and Sparks' to many a British household.
David Black sadly died only a few years later in 1963.
Olive Messer
It was another two decades, similarly echoing the time space between Semon and Moser, that Bradford again had a Jewish person heading up the council discussions. During the mid 1980′s and at the time of the tragic loss of life that was the Bradford City fire disaster at Valley Parade, Councillor Olivia 'Olive' Messer lead the council as Lord Mayor. Between 1984 and 1985 Mayor Messer held office and helped define an era for Bradford, under the Thatcher Era, when women in politics came to the forefront. She was key to the laying down of a fund which would benefit the victims and their families, which in turn became the model for other disaster relief programmes, including Hillsborough only 4 years later.
Olive was married to a Shipley Doctor, Basil Messer, and the couple would live well into their 80′s with Basil been 89 when he passed away February 2010, while Olive joined her late husbands side less than two years later in December 2011.