Nigel's Words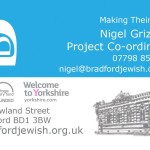 In December 2011 the Bradford Synagogue was awarded a grant by the Heritage
Lottery Fund, for a project, Making Their Mark to look at the contribution of the Jewish
Community to the building of Bradford.
Benjamin Dunn was recruited as Research Officer to the project and he and I have
spent a great deal of time researching Jewish Bradford. When I met Ben at interview
he told me his parents were 'economic migrants to Bradford'. They'd moved north to
Bradford because of his father's job in the Civil Service.
In those words Ben had encapsulated the Bradford Jewish experience. No one came to
Bradford for the air, the views or the poetry, they came to work. Bradford was and is a
hard working city and the Jews played their part as city builders, entrepreneurs, medics,
academics, teachers and citizens.
Early on in the project Ben showed me a book entitled 'From Shtetl to Milltown' which
looked at the Jewish Experience in the Milltowns of Western Pennsylvania which gave
an international dimension to our project. The Jewish experience in Bradford was
paralleled in the USA.
2012 was a tumultuous year for Jewish Bradford, the Bradford Hebrew Congregation in
the suburb of Shipley closed its doors on Shabbat Vayeira November 10th. At the end
of October the tombstone was unveiled for Olive Messer, a former Lord Mayor of our
city, yet Jewish life continued.
Jews still live, work and contribute to Bradford. The Bradford Synagogue in Bowland
Street, Manningham functions with a renewed purpose and Bradford as a city still
strives to find its rightful place in the UK.
This website follows on from the three Bradford Jewish Heritage trails that I have produced
over the years and looks at the totality of the Bradford Jewish experience.
We have enjoyed writing these pieces and we thank all those who helped us in our work
including David Jacobs, Rudi Leavor, Albert Waxman, Rabbi Walter Rothschild, , Malcolm Sender , Joyce Hoffbrand, Richard Dalton, Rita Dalton, Stefan Simmonds, Hanneke Dye  Ben Holden and Jamie Hardy.
Like all writings  on Bradford this is a work in progress and we'd welcome any help,
information or corrections readers can offer. It is not a complete history of Bradford
Jewry, but a picture of what we regard as perhaps the key areas.
In the years that I have worked in and around Bradford spanning the period 1976-2013 I
have been fortunate to meet many of the key players in the Jewish community and hear
first hand from them their stories.
Nigel Grizzard, West Yorkshire
February 2013
Ben's Words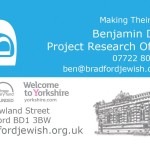 In the winter of 2007 I accompanied my father on one of Nigel Grizzard's guided tours of Jewish Bradford. While we were having a cup of coffee during the stop off point at the Wool Exchange, I paused briefly and thought  to myself, 'I want to learn all this guy knows about Jewish Bradford, I could do this!' I got as far as reading the little brochure we received during the walk, over and over again whenever the interest of Jewish Bradford entered my consciousness.
This booklet was my guide to the history of the Jews in my home town. I didn't do much research on this topic for the next four years, as life, work  and starting a little family simply distracted me from a simmering interest that had laid in the back of my mind for years. From time to time, the same question would enter my mind: whatever happened to the German Jewish Merchants and their families in Bradford? Had they blended into the background of the city, with a subtle, but undetectable Anglicised name change? Or had they simply disappeared out of Bradford altogether?
Then one afternoon in January 2012, I received an email from my wife's cousin Lee White,  a Leeds University History Graduate who now works in recruitment. He knew I was a bit of a history and genealogy nut, after all I had trained as an Archaeologist for four years at the University of Bradford. He had forwarded me a job vacancy he had recently seen.
Someone was looking for a researcher to delve into the archives and write up a fresh history of the Jews of Bradford. 'A job with my name written all over it', I thought to myself. I also thought, 'there is only one other person in the world, besides Lee White I know of who would be interested in this…Nigel Grizzard!' It turned out it was Nigel who had placed the advert… And so my involvement with Making Their Mark began…I quit my job in the libraries and town halls of Kirklees Council, it was a risk, but a risk I thought worth taking. And so I set out on a voyage of discovery….to make my mark with Making Their Mark…
Benjamin Dunn, West Yorkshire
February 2013
_______________________________________________________________________________________________________
The Cemeteries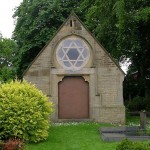 One of our first tasks was to comprehensively record all the tombstones in the Reform
and Orthodox Jewish Cemeteries at Scholemoor together with the small number of
Jewish tombstones at Undercliffe Cemetery.
Malcolm Sender, once a dentist in Buttershaw, Bradford and now an intrepid
photographer of Jewish tombstone volunteered for the task and photographed the 650
plus stones.
Alan Tobias of Leeds was our software guru and he arranged for all the pictures and
information to be catalogued and David Shulman loaded it onto the Jewish Genealogy
website.
As Malcolm photographed the graves we were struck by the number of Doctors buried
in the cemeteries, who were they and why had they come to Bradford?
We found graves of Mira Kagan,who was one of the few survivors of the Kovno Ghetto
in Lithuania, of Dr Emma Pines Roubanovitch whose husband had died in Siberia in
1938 and of David Selka who had undertaken secret war work for the Admiralty.
To supplement the tombstones and their transcriptions, we hope former Bradfordian's
and the relatives of those buried in Bradford will send us biographies of their family
members to include on our website – email info@bradfordjewish.org.uk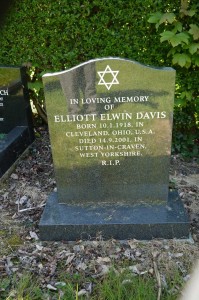 The tombstone to the left is in the Reform Cemetery and list's Elliott's birthplace of Cleveland,
Ohio, USA and place of death, Sutton in Craven. If all tombstones contained similar
information it would be a great help! Much more information can be viewed by clicking here which will take you to the JCR (Jewish Communities and Records) page on the Bradford Cemeteries.
To read about the Jewish Doctors in Bradford, many of whom are buried in Scholemoor, click here.
_______________________________________________________________________________________________________
Heaton Estates
The Heaton Estates Conservation area has been recorded by Bradford Council and
covers Heaton Grove, Mariners Drive and Park Drive.
This area of remarkable houses was once the home to many of Bradford's Jewish
community.
Industrialist and son of the first Rabbi in Bradford, Oswald Stoud and his wife Clara lived
in Park Drive, Dr Maxwell Abrahams, the community's Mohel lived in Mariners Drive, the
Rothschilds in Heaton Grove.
Edgar Rothschild died on February 16th, 2012. He was one of the generation who left
Hanover in Germany in the 1930s and found a new home in Bradford. A man who
believed nothing was impossible, he had taught himself electronic and engineering skills
and imparted them to his children.
Rabbi Walter Rothschild, Edgar's son, back in Bradford from his home in Berlin took
Ben and me on a tour of Heaton Grove. He brought the area to life as he remembered
the families who had lived in houses, each one larger than the next. The Jews have
now gone but in their place Asian families have moved in, marking out their territory with
huge ornate iron fences and gates.
For those who want a feel of the power that was once Bradford , a walk round Heaton
Grove and the adjoining streets with the Bradford Council guide is very worthwhile.
_______________________________________________________________________________________________________
Bradford City AFC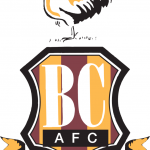 Bradford City at Valley Parade, Manningham, a short distance from the synagogue in
Bowland Street is home to many of Bradford's greatest triumphs and tragedies.
Football plays a key role in any city's life and Bradford City have had both Jewish
players and a Jewish owner.
Louis Bookman – who Anthony Clavane describes 'As the Lithuanian Jewish Irishman'
was born in Zagare, Lithuania went to Ireland then came to Bradford. He played for the
club while they were in the First Division in the years 1911-1914.before moving onto
West Bromwich Albion.
Abe Rosenthal born in Liverpool played for Tranmere Rovers and Bradford City in the
period 1938-1956 yo-yoing between the two clubs three times he made a total of 225
appearances scoring 78 goals.
Dean Furman, South African born, made 33 appearances in the 2008/9 season scoring
4 goals.
Geoffrey Richmond from Leeds was one of the 'larger than life figures' who was
Chairman of Bradford City from 1994 to 2001. He saw the Club promoted to the Premier
League and then faced the problems of keeping it there. Bradford in the 2012/3 season
are now in Division 2.
On May 11th, 1985 there was a tragic fire at Bradford City FC, the old stand burnt down,
56 people lost their lives and hundreds were injured. Nigel Grizzard, was appointed by
his employer Bradford Council to lead the fundraising effort to help the victims. A total of
over £4.5million was raised which provided a compensation fund and also facilitated the
setting up of a Burns Research Unit to look for new treatments for Burns Victims.
_______________________________________________________________________________________________________
Keighley and Blacks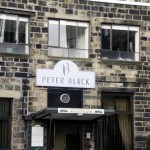 Keighley is Bradford Metropolitan District's second town, some eleven miles distant
from Bradford City Centre. Keighley has never had a formal Jewish community.
Peter Black, (born Hans Schwarzschild) in Frankfurt in 1908 came to England in the
1930s after the Nazis took control in 1933. He settled in Hampstead Garden Suburb but
after war started in 1939 he came North looking for new premises for his factory. After
visiting Bradford and Leeds he came to Keighley where he found a vacant old mill near
the station. He set up a factory in the town trading under the name of Bagcraft working
for his employer London based L.S. Meyer.
When war ended he set up a new firm with the name Peter Black. It grew to be
Keighley's largest employer, was a major supplier of bags to both Marks and Spencer
and Adidas.
Peter Black died in 1977 and his son Thomas produced in 2009 with Bound
Biographies 'A Family History Tracing the Descendants of Moses Martin Schwarzschild
and Henrietta Sabel.
The Keighley Picture House is the town's cinema. I was told by a Bradford Councillor
that in the 1980s Israeli cousins and film makers Menachem Golan and Yoram Globus
owned the cinema through one of their holding companies but I am yet to find any hard
facts on this topic.
O&K Company the 'trade name' for Orenstein & Koppel started in 1876 as a train
building company in Germany. In 1935, as the owners were Jewish the Nazis took over
their company and they had to flee. After the war, in the 1960s O&K started making
escalators and lifts in England (they worked in partnership with Keighley lifts). I don't
know whether the company that worked with the Keighley company were the original
company or a German company that had taken over O and K's assets. (I'd be grateful
for any assistance on this).
_______________________________________________________________________________________________________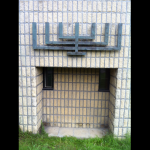 The Bradford Hebrew Congregation in Springhurst Road, Shipley closed its doors
on Shabbat Vayeira, November 10th, 2012. I attended the service along with nearly two
hundred other people, who were Bradfordians, ex Bradfordians or who in some way had
a link to the synagogue.
In previous final services that I had attended the synagogues were run down buildings
in run down neighbourhoods, but Bradford was different. The shul was relatively
modern opened in 1970, only 42 years old and the building was contemporary and fit for
purpose. The problem was that the community had gone.
In its last decade the Bradford Hebrew Congregation met monthly on Shabbat
Mevarchim, the Sabbath before the New Moon. There were enough people available
to ensure there was a minyan, the locals were augmented by a band of followers
from Leeds. But in the end there was no one to take over from Shul President Albert
Waxman, who with his wife Lily had worked hard to keep the synagogue open.
So why did the community close? The answer lies in the closure of Bradford's textile
industry which was a major area of Jewish involvement, but more important the drift
from Bradford of  young Jewish people to seek education and better opportunities elsewhere.
Young Jewish Bradfordians headed South to London and left the city as did many of
their non Jewish compatriots. There was no-one to replace them and those Jews who
currently work in Bradford, mainly live in Leeds.
The final sermon in the synagogue was on the topic of 'The crown of a good name' and
that was what Bradford had, its people had left to join and build communities elsewhere.
Bradford's closure followed that of synagogues in the Yorkshire towns of Dewsbury
(c1965), Doncaster (1979), Huddersfield (1970), and Middlesbrough (1998).
For those attending it was chance to renew acquaintances, to meet up with friends from
the past and to revisit a building where they had once worshipped but the closure felt to
me that it left a gaping hole. The community had gone, but could it have been saved?
I'd like to have thought so, but unfortunately for whatever reason it couldn't.
The first purpose built Orthodox Synagogue had stood in Spring Gardens Manningham.
It closed when the new synagogue was opened in Shipley. Spring Gardens was opened
in 1905 and used until 1970. It became premises for a firm selling car radios and
stereos, but when that business became redundant as cars came fully fitted, it became
a Madrassa (an Islamic School).