Based on a snapshot of statistics and information from the Reform section burial register of Scholemoor Cemetery, Bradford over a 45 year period, 1877-1922.
The Arensbergs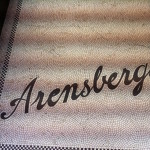 At 10 Sherbourn Road, near Little Horton lived the Arensberg family. They were successful shop keepers who ran two different businesses in Bradford. They started off as cigar merchants, with another premises in Sheffield and later branched out into the jewellery trade. Head of the family, Henry had a jewellery shop halfway up Ivegate. This is now occupied by the high street jewellers chain Herbert Brown. The original signage bearing the family name can still be seen, both on the window of the entrance door, and on the mosaic floor tiles just infront of the door. Henry and his wife  Fanny had several children. Sadly, many died in infancy. These were
Frederick, known as 'Freddie', Moses, Leah, Simon, Louis, who survived into adulthood.  Louis married Rebecca and they had a son, Merton who never married, and he took over the shop, unto he sold it on in the late 1960′s, when if finally passed out of Jewish hands. Merton was a member of the Synagogue board, with his name appearing on the honours positions board in the entance vestrible to the synagogue. He was chairman of the Synagogue from1951 to 1954 and later president during the years 1957-1972.  Henry Arensbergs name is also on the list of well wishers whose signatures appear on the commemorative presentation for the 25th wedding anniversary of Jacob Moser and his wife Florence, in the year 1900.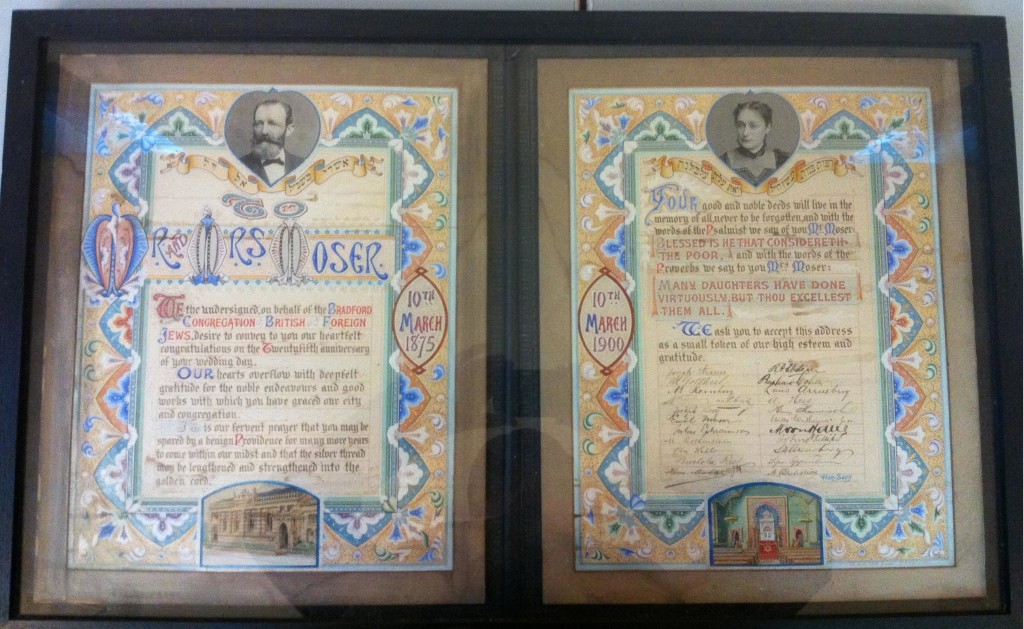 The signatories of the prominent Bradford Jewish men who wished Jacob and Florence well on their 25th Wedding Anniversary, including brothers Simon and Louis Arensberg.
The Fuldas
Living at number 9 Claremont was stuff merchant Leopold Fulda and his son John Fulda. Leopold was a partner in the firm Schuster-Fulda & C0. who had premises at 62 Leeds Road,  in one of the warehouses of Little Germany. Unfortunately, the ornately built sandstone warehouse of Schuster & Fulda, built between 1869 and 1873, was demolished in 1986 for the new Bradford Ring Road.
The famous classical composer Frederick Delius (who was actually born Fritz) was brought up in the house just opposite, which is now the offices for the Bradford Council for Mosques. In sharp contrast is  'Delius Lived Next Door', a pub popular with students from the nearby University of Bradford, and local fans of indie rock and alternative music.
Morris Mathews
At number 5 Middle Street just off Manor Row lived Morris Mathews, who was born about 1803. He is recorded as living here upon his death in January 1879. It is thought he was another of the woollen merchants. Middle Street is adjacent to Salem Street, where one of the earliest Reform Congregation Synagogues in Bradford was based before a purpose built one was opened on Bowland Street in 1881. It must be noted that a Jewish Community was not officially formed until 1873 when Rabbi Dr. Joseph Strauss arrived, and in intermittent  years the congregation would rent out a room somewherw close to the town centre of directly in the centre. The very first Synagogue site was right in the epicentre of Bradford civic life, on Tyrell Street which was next to City Hall. This is set on what was once part of Market Street, now Centenery Square and City Park. Inside the 'Town Hall' there is a small collection of silver artifacte associated with former Jewish Lord Mayor, Councillor Jacob Moser J.P. Dubbed the 'Town Hall Hoard', the Moser Collection can boast an impressive pair of antler horn and silver cigar lighters, used for after dinner smoking, as well as a Megillah (Scroll of Esther) complete with silver casings. Also among the items is a silver pointer, though not a 'Yud', (an ornate  miniature pointing finger made of precious metal used to keep track of which words of the Torah text are being read). However by far, the most interesting of the items may be the cigar lighters, which are also known as table lighters. They were bequeathed to Jacob Moser from a business associate as a method payment for an unpaid debt or loan. There is also a document in Hebrew, perhaps a contract of some sort, also kept in an ornate tubular silver casing. It has yet to be translated, so the mystery is kept very much in suspense.
The Salomons: Diamond Street
Dwelling at 33 Diamond Street, just off Vicar Lane near Little Germany was the tailor Harris Salomon.  He was married to Jane, and they had a daughter Rachel. She died tragically early aged just 3 in the early September of 1890. Also living with the Salomon family at this time were the Mostofskys. They too lost a child at a young age. Their baby boy Morris was taken from them at only 14 months in early October 1898.
There were other Salomons living in Bradford during this period too. Ethel and David Salomon and their baby daughter Kate lived at 46 James Street in 1909. And nearly 40 years before, the merchant John 'Jonas' Salomon Koppel lived at 1 Oak Mount. He was the first person to be buried in the new Reform Jewish section at Scholemoor Cemetery, upon his death in mid May 1877, aged 58.  Another Salomon was the wife of Jacob Unna, Serine, who was the daughter of Wolff and Rosa Salomon, of Manchester. She was the third burial in Scholemoors Jewish section, and the first woman to be laid to rest there.There may well be a family link between these people.
Also on Diamond Street, although many years later was tailor Abe Hoffbrand, who can be read about by following this link: http://bradfordjewish.org.uk/recollections-of-joyce-hoffbrand/
The Philipps: Clifton Villas
At 2 Clifton Villas lived husband and wife Adolphus and Jenny Philipp. He was a merchant, she most likely a lady at leisure.
The Cahns: Darfield Street
Living at 19 Darfield Street were Louis & Lucy Cahn. They lost their baby boy Adolph in late May 1879, aged just 15 months. By 1884 they were living in Hudderfield at Upper Spring Street, tragically they lost another baby, this time a girl, Abigail who left this world in October 1884.
The Brombergs: Portland Street and Piccadilly
Ernestine Bromberg was born in or around 1839, the daughter of Leip and Muriel Holz. By the time she came to settle in Bradford was married to the Taylor Mark Bromberg.
The couple had tragically lost a little baby daughter, whom they had called Sarah, when she was aged just 2 weeks old on 15th November 1879. At this time the couple lived at 6 Piccadilly which is just around the corner from the present Waterstones Bookshop on Hustlergate.
Just over a year later the Brombergs were living at 104 Pollard Street. On December 12th 1880, Ernestine died, at the age of just 41, in a city whose average life expectancy at the time was about 25. Her husband Mark is named as the informant in the 'Register of Interments at the Reform Jewish Section, Scholemoor Cemetery, Bradford'.
By 1886 Mark had married again, this time to Rebecca. They were now living at 5 Portland Street. Tragedy would strike again for Mark, 7 years after his baby daughter Sarah had died in infancy. The couple had a daughter, Rebecca who would live to be just 7 weeks before her time on earth was untimely through, on August 3rd 1886.
Further tragedy would befall the family when Marks son died aged just 11 within six months of his little baby sister Rebecca's death. Israel Bromberg passed away in the winter of 1887, on 18th January.
Yet more sorrow would enter the Bromberg residence of number 5 Portland Street the following October when on the 1st day of the tenth month Mark and Flora (perhaps a nickname for Frederica) would loose yet another baby girl, another Rebecca, aged only 4 days.
This series of sad events clearly shows just how frequent infant mortality was in the Victorian era, and no matter how upsetting and distressing it was, death was simply a part of life. Funerals and mourning was an everyday occurance, which in time would affect the psyche of the Victorian people to the point that they would become obsessed by death and funerary culture. Or at least that is how we perceive it today through our extremely sophisticated hi-tech and fortunate early 21st Century eyes.