Pity Poor Bradford: Jewish Refuge Doctors
The Draw Of An Impoverished City
What drew Jewish migrants to Bradford in the first place?

The textile trade was an obvious incentive for Jews from mainly Germany to be uprooted from comfortable middle class districts of Hamburg and Berlin during the mid 19th Century. However, what was it exactly about a poor, grimy  'mucky' northern borough that kept enticing people to live, work, lay down roots and eventually die and be buried here?

There was the creation of the National Health Service (NHS) in post-war Britain  which coincided with the outpouring from British Universities of a generation of newly qualified and hungry to work Jewish Doctors and other health professionals. Bradford had ever since who knows when rewarded its wealth to some, but this was coupled with the tremendously poor often suffering harshly and dying early of disease and desperation to provide the rich with their silk lined pockets and exotic blends of tea.

Those socio-economic problems, which ultimately always translate as poor physical and mental health in a population willed there to be sympathetic doctors who wanted to make it their duty to help. This gave Bradford's poor, like in many U.K. cities and towns their first real opportunity to receive good quality, professional healthcare treatment.

Not for a reduced or subsidised rate, not on a first come first served basis, but for free. As long as they could stay alive long enough to wait for it.

It brought this band of young Jewish doctors to the city, with a determined dedication to fulfil a duty to the deserving poor.

Many of these Doctors had fled Nazi occupied Germany and her neighbours. First they came to London, from where they were directed to take up positions of work in Bradford.

It is worth bearing in mind  however that not all the Doctors were necessarily Doctors of medicine.

Some of the Doctors who are buried in the cemeteries at Scholemoor are these named below:

Dr Samson Goldin

died 10th April 1963, aged 37. Also

Dr Maurice Goldin J.P.

who was the  husband of  Lydia Goldin. He died 24th October 1982, aged 69.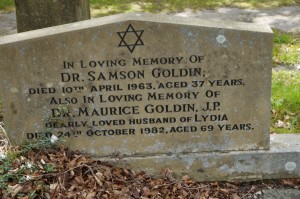 Tombstone of Dr Samson Goldin circa 1926-1963 & Dr Maurice Goldin circa 1913-1982
Dr Rudolph Alexander Bright born 17th April 1901 who died on the 2nd June 1978.  He is buried with his beloved wife Erna, who was born 27th October 1905 and died on the 16th March 1996.
Dr Victor R. Hecht born 18th March 1882, died 3rd January 1969, who was buried along with his sons Hans and Peter. 'He loved his God in music, Art and nature. '
Dr Moses Fritz Guttmann who died 27th April 1953 . His gravestone reads with this line from Psalm 24, 'Who shall ascend the mountain of the Lord? He that hath clean hands and a pure heart, who hath not set his desire upon vanity'.
Dr Hans Librowicz born 30th October 1890 died 17th May 1981 and his wife Luise. Dr Librowicz was actually a Dentist. They were the parents of Bradford Synagogue Chairman Rudi Levor, and was himself president of the Synagogue between 1962 and 1981. Rudi has been president since 1975.
Dr Erich Bienheim, born 16th November 1898, died 28th January 1962. Not a Dr of medicine, he was actually the Rabbi of Bradford Synagogue a few years after the war, for 12 years between 1949 and  1961. Also buried is his wife Marion, who was born 23rd November 1909, she died 4th November 1978.  His gravestone reads: 'A man wholehearted and upright and one that feared God and shunned evil'.