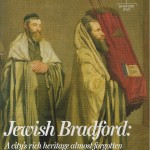 The Making Their Mark Project has been featured in Who Do You Think You Are? Magazine (February 2014) which covers aspects of family history. The piece written by Benjamin Dunn examines Bradford's Jewish history, covering the three main phases of Jewish migration to the city, 1830s, 1880s and 1930s.
There is also a podcast from the magazine, which features Benjamin Dunn talking about the project and Bradford's Jewish history in brief.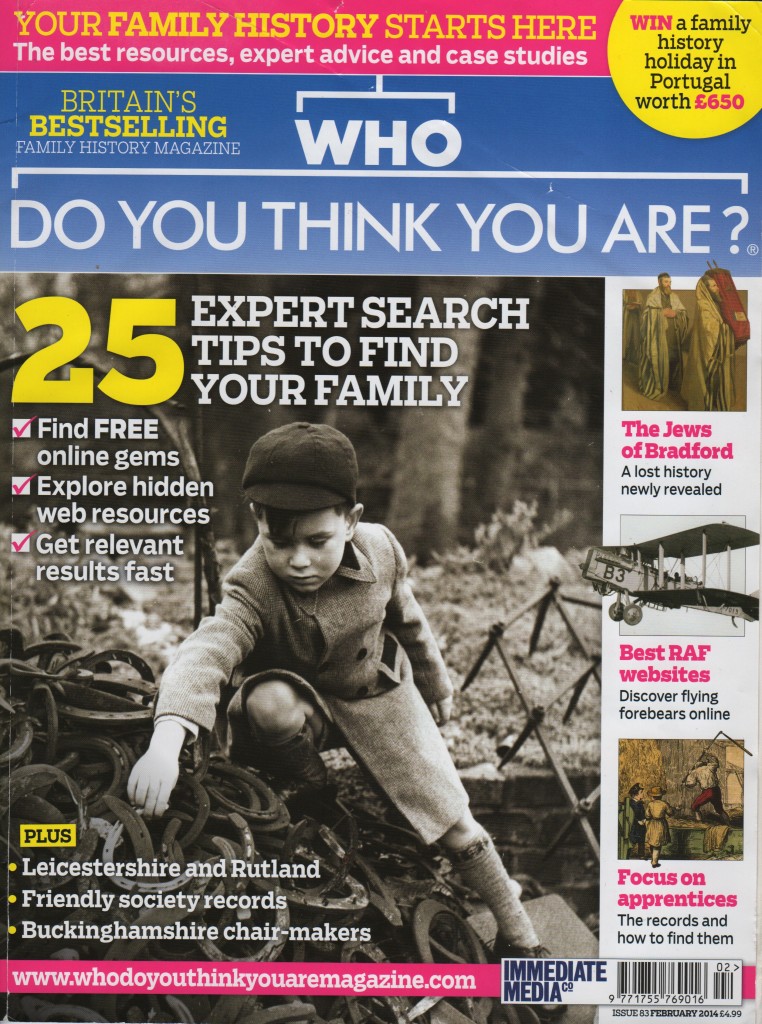 Below is a PDF scan of the article from the February 2014 edition of the family history magazine, published by Immediate Media.
You can download it here: Bradford Jewish – Who Do You Think You Are Magazine February 2014
To buy a copy of the magazine click on www.whodoyouthinkyouaremagazine.com or visit a good newsagent.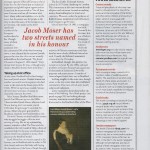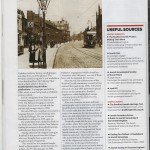 Jewish Bradford: A City's Rich Heritage Almost Forgotten
The Jewish community has had a major influence on Bradford since immigrants first moved there 200 years ago. Benjamin Dunn looks at their story and how you can trace ancestors of the Jewish faith.
When images of Bradford in West Yorkshire are evoked, historic Synagogues, and Jewish owned former textile mills don't immediately spring to mind. Instead, a city struggling with its industrial past and the problematic dilemma of inner city urban segregation is more likely presented to us.
Back in late 2011, the Heritage Lottery Fund awarded a grant to Making Their Mark, a community history project based at the cities Reform Synagogue. Over the next year and a half, research was conducted into the city's Jewish past, which produced a series of oral history interviews, a guided heritage trail and a booklet highlighting the history and achievements of the city's Jewish population.
Since the dawn of the industrial age, around 200 years ago Bradford has been a place which has attracted immigrants. Notably waves of migrants arrived from Mayo and Sligo in rural Ireland, after the potato famine of the mid 1840s. This was a significant immigrant influx, which was seen on a similar scale across many of the North's industrial towns, and in other places in the UK, and in-fact across the world. The sudden arrival of thousands of people, became an instant source of labour and manpower for the growing number of industrialists involved in textile manufacture. Much has been said about the Irish migrations. a pattern which came to be repeated a century later, when another set of displaced peoples arrived in Bradford, this time from the Indian Subcontinent. However, long before Bradford became home to  Irish and Indian immigrants, it had become the base for a small, but significant number of German Jews.
Manningham is a suburb of Bradford where many of these early migrants from South East Asia first settled in the 1950′s. It was developed and built in the mid 19th century, primary for the newly rich, well-to-do people who had benefited from the prospects of woollen and Worsted production and export in the city. Nowadays the smell of curry dominates the air emanating from open doors in the back streets of the area. If we peel back the layers of time, back in the late 19th and early 20th centuries, the smell of Gefilte fish and borscht, foods associated with Jewish migrants from Eastern Europe and Russia may have caught the nose.
From the late 1820s onwards Jewish businessmen from Germany, Prussia and Denmark began to arrive in the city, which was then still a small rural market town. Industrial developments had led to an increase in mills producing textiles, and the railway came to town in 1846. These changes drew textile merchants such as Leo Schuster, thought to be the first German Jewish merchant to set up business in the town, as far back as 1829. He would later convert his faith to Unitarianism, which was something many assimilating German Jews of the time would also do. Soon to follow were other merchants such as Jacob Behrens, coming to Bradford in 1838 via Manchester and Jacob Unna who arrives in 1844. Behrens' company is still in existence today, and manufactures luxury bed linen.
By the 1860s Bradford had a significant number of German Jewish citizens, in amongst a greater influx of Germans who had made the city their home, due to industrial expansion and global export opportunities. It may best be summarised as 'not all Jews were Germans and not all Germans were Jews'. Many other nationalities came to the town, but the easiest way for people at the time to describe many of the foreigners was as Germans, who by far made up a significant number of the European settlers there. Though many of them wanted to assimilate into the commercial life of the then boom town, it was claimed by the national Jewish press at the time that this was not as easily achievable as they had hoped. The Jewish Chronicle of August 11th 1865 stated that "They do not want to pass for Jews, although every child in Bradford knows them to be Jews" which perhaps still encapsulates the Bradford and perhaps modern Jewish identity to some extent.
"They do not want to pass for Jews, although every child in Bradford knows them to be Jews".
Jewish Chronicle, 11th August 1865.
At this time, Bradford had it's first foreign born, and Jewish Mayor. Charles Semon was another successful textile exporter who had come to the town in the boom years of the 1840s. With his hefty wealth, Semon devoted significant amounts of money to charitable causes within the town. After Semon, Bradford had three more Jewish Lord Mayors up into the 1980s. These included Jacob Moser, who was Lord Mayor during the Coronation year of 1910 when King George V ascended the throne. Moser also gave generously to Bradford, which by now had become a city. His wife Florence worked hard for women who struggled to juggle childcare with earning a living. She set up a pioneering nursery initiative, ' The Nest'. She also established the City Guild of Help, a form of organised help for the poor and distressed, a system which has been adopted in many other places on the Bradford model. Jacob Moser has two streets named in his honour, one in Bradford and the other in Tel Aviv, Israel. Such were his links with laying the foundations of the State of Israel through the early Zionist Movement in the early twentieth century that he was honoured there. Sadly, the Mosers were never able to have children of their own, which may explain why they could be so generous towards the poor and needy of the town they chose to live in.
Although Jews had been living in Bradford since the 1830s, it took them the best part of half a century before they would officially form themselves into a community.  The first Rabbi, Dr Joseph Strauss arrived in 1873 from Hamburg via London. The community at the time were not fiercely religious, and were more focused on making money than holding fast to rituals and ceremony. However, under the guidance of Rabbi Strauss, momentum and enthusiasm finally began to gather pace. Several years later, in 1881, a Synagogue was built. Unusually for the time, this was for Reform Judaism, the strand of the Jewish faith which the majority of German merchants and their families most closely affiliated themselves with. Usually the Reform Community arrives after the Orthodox, however in Bradford, this pattern was turned on its head.
By the 1880s, political problems in Eastern Europe had caused tens of thousands of Ashkenazi Jews to flee pogroms and persecutions. A number of these refugees found their way to Bradford. Settling roughly in the same area of Manningham, though closer to the city centre than the established community, these new arrivals were mostly tailors and tradesmen. Little was known about them before the onset of the Making Their Mark project, but looking through cemetery interment records which were discovered in the Bradford office of the West Yorkshire Archive Service, small glimpses into their lives could be gleaned. The ninety nine name cemetery register is now digitised and available as a free download from the Making Their Mark website at www.bradfordjewish.org.uk/other-publications. A synagogue was built in 1906, which closed in 1970 and is now used as a Muslim Primary School, having being a car radio sales are service centre in the intermittent years.
"A dash of the Rhine and the Oder found its way into our grim runnel—"t'mucky beck.""
J.B. Priestley,  An English Journey, 1934.
The year after Bradford born author J.B Priestley made the above observation in his book An English Journey, Jewish immigrants from Nazi occupied Germany began to arrive in the city. The Reform Synagogue's current President, Rudi Leavor arrived with his parents and younger sister in 1938. His sister Winnie, would go onto marry a language lecturer, Gerald Fleming, born Gerhardt Flehinger. He too arrived in Bradford as a refugee in 1935, aged 14. He would later write a definitive book on the Holocaust, Hitler and the Final Solution, finding his nemesis in discredited historian and holocaust denier, David Irving.
Among other Jewish refugees coming to Bradford in this period were the 24 boys who were brought there as part of the Kindertransport Program. They would live in a purpose bought hostel, in Manningham, which became the subject of a TV documentary in 1989, fifty years on. This is now available for viewing on YouTube. Albert Waxman, last president of the Bradford Hebrew Congregation (which closed last November after 125 years), was one of those boys, and he organised the reunion.
After the war, the achievements of the Bradford Jewish community seemed to have reached their peak in the 1950s. The Jewish Chronicle of July 1st 1955 published a special feature on the community, The Bradford Supplement, which highlighted various crowning points of this small, but significant populace.
After this however, as more and more young people went to university, and entered the professions, the population saw a decline. The textile trade also saw a decline, which made it less attractive for the descendants of those who had played their part in building it up to follow in their footsteps. Gradually people left the area, some going to London, where they could become high achievers, others moving up the road to nearby Leeds, with its comparatively larger Jewish Community. Others still went to America and Israel. There were also those who stayed behind in Bradford, but married out of the religion and culture of Judaism. Only now in this age of information discovery, with ready access to family history archives, are people able to begin to discover their seemingly forgotten about Jewish roots, delving further beyond than just a mere inherited whisper.