Product Description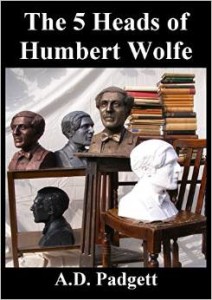 We are pleased to be hosting a buy it now page for the book The 5 heads of Humbert Wolfe, written by the poet and authors great great nephew, the award winning sculptor Anthony Padgett.
Bradford's own Humbert Wolfe was born in 1885 to Italian mother, Consuela, and a German Merchant father, Martin Wolff. Both were Jewish, and Humbert was born in Milan. Humbert's mothers maiden name had been Terraccini. – Coincidentally the Bradford Jewish Heritage Trail booklet was designed in Milan in the July and August of 2013 by agraphic designer based in the city – Paola Tessari.
The 5 Heads of Humbert Wolfe, is a reappraisal of his value and coincides with the creation of 5 sculptural heads to represent aspects of his life and work. Marble (International), Bronze (Bradford), Silver (Oxford), Gold (London Literary) and Granite (London Civil Service). Chapters in the book contain extracts from his poetry, prose and criticism. His poetry has themes of love and death and his form is Romantic, yet between Traditional and Modern. His criticism of verse is still relevant today and highly learned. Included is an essay on Wolfe by Anthony Padgett.