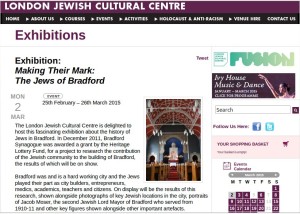 Last Tuesday evening, 24th February, saw the launch of the Bradford Jewish Exhibition at the London Jewish Cultural Centre in Golders Green. The exhibition runs until near the end of the month, closing on the 26th March. Housed in the former Leo Baeck College, the exhibition comprises photographs, paintings, artefacts and free standing 7 foot high 3D display feature, which highlights some of key achievements of Bradford's Jewish Community.
These include important social history, such as the many tailors of the city in the 19th and 20th centuries, its contribution to football as well some key figures, such as Harry Kramrisch, a shipping merchant in the wool trade and later Yugoslav-Serbian Consul.
Below are a selection of photos taken by the LJCC on the evening of the exhibition's launch.